A prominent leader of Global Waaqeffannaa Assembly (GWA) and a prominent elderly Obbo Hundasa Wakwaya has succumbed to an illness that gripped him during the last few months. The GWA is in a great shock while it announces his sudden passing away on 09.02.2019 in Norway.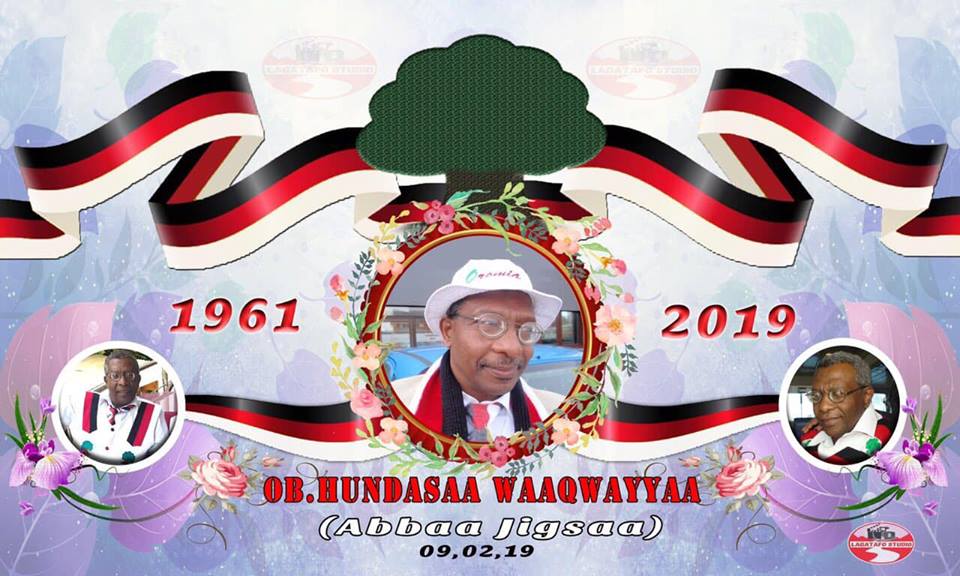 Hundassa peacefully passed away in the morning of Saturday all surrounded by his family and loved ones. This was a dark day not only for his family members but also for all Oromos who knew him and worked with him on different Oromo cultural , historical and religious activities.
Hundasa was born in Mida Kengi in Western Shewa, Oromia in 1952. He was educated both in Gedo and Ambo to complete his high school studies. He then worked in different organizations in Addis Ababa until he was forced to run away to Kenya in 1998 for fear of persecution by Ethiopian State security agents.
During the last three decades Hundasa keenly worked to words the revival of Oromo cultural and religious wisdoms that was systematically sidelined and officially banned by successive Ethiopian regimes. His profound knowledge and understanding of the values of Oromo culture and religion that was passed orally from Generations to Generations made him a respected figure among his Oromo compatriots. He has a first hand knowledge and excellent mastery of the rituals of the Oromo belief system. In fact he is the one who coined the word Waaqqeffannaa for wider use among believers.
In the early 1990's he and a few of his compatriots established a Waaqeffannaa branch – Walda Amantii Oromo- under Macha and Tulama self help Association to teach and promote an indigenous Oromo belief system that has its tenets on natural laws and phenomenon -Safu Waaqa. The Association on top of teaching Oromo history culture and religion to its members, mainly University students, focused on the reorganization and coordination of the annual Irrecha festival at Hora Arsadi as its principal duty.
That Irrecha seed Hundasa and his friends planted and promoted during that time has now become one of the biggest Oromo sociocultural rallying event in Ethiopia; uniting Oromos from all walks of life without region or religion. Irrecha festival today has turned out to be one of the biggest Oromo national holiday that serves as a symbol of Oromo Nationalism.
Hundasa's capital strength moreover was his profound knowledge of the Oromo language and its newly developed writing system -Qubee Afaan Oromo. He in particular played a leading role in the propagation and expansion of the new writing system that was just introduced as a working language in Oromia Regional State. He was among the few Oromo intellectuals who mastered the art and educated many young Oromos to read and write in their mother tongue for the first time.
Hundasa also played a leading role in the translation of many educational materials in to Afan Oromo that was used in schools in Oromia. So many educated young Oromos today, owe their knowledge of the cultural, history , religion including their national pride to the dedicated contribution of Hundassa. In parallel, along with his friends, he published a quarterly publication called Madda Walabu that focused on the culture history and the value systems of Oromos.
He also authored two other books on the genealogy of the Oromo people and its history. His publications were so much liked and had a wide readership among Oromo youths in particular that it attracted the attention of government security agents who panic at the slightest Oromo nationalist feelings and tendencies. Because of these and other sociocultural and political activities he was involved in, despite his handicap, he was equally subjected to intimidation; harassment and disappearance; like other Oromos; that he had to run away from the evil eye of the then Ethiopian regime and turn himself into a refugee in Norway.
While in Norway Hundasa vigorously continued doing what he enjoys doing in life i.e. promoting Oromo value systems and educating history and culture of the Oromo people to up lift the sense of Orommuma. He in addition served as a leader of Oromo community and was an elderly who was so much liked; respected and listened to by the members that contributed to cultivate peace and harmony among Oromo community in Norway.
In 2008; Hundasa and his compatriots established an Oromo religious assembly – Global Waaqeffannaa Assembly (Gumii Waaqqeffannaa Addunyaa)- that brought together interested Oromos from Europe; Kenya, Australia, North America and Ethiopia to serve as a forum and rallying point to interested Oromos for the revival and promotion of the Oromo belief system that was widely practiced in the Horn Africa from time immemorial.
In the inauguration of the Assembly, at Bergen Norway, prominent religious experts; Like Abba Liban Dabassa Guyyo, were present to make a lasting impression of what Waaqeffannaa was as an Oromo value system. Hundasa then was nominated to serve as a chair of the Association and led it for ten years without any interruption. He doggedly opened a pal-talk discussion forum every two weeks for ten years and run it amicably. On the forum, He invited Oromo scholars and facilitated exchange of knowledge thereby enhancing the sense of Oromouma among so many lost Oromo souls.
The Global Waaqeffannaa Assembly colorfully celebrated its tenth anniversary in July 2018 at Bergen; Norway in the presence of Oromos from all continents including the then Abba Gadaa Bayena Sanbato and other prominent Oromos from Oromia. All this was made possible by the able leadership of Hundasa Wakwaya who now lies breathless to the disbelief of his friends and family members.
Hundasa's dedication for what he believes in is unmatched by. It is a big lose for Oromo community in Europe, Norway in particular. It is a big lose for many. It is an untimely lose for friends, families and colleagues. We dearly miss him. Hundasa is a man you would not want to miss at this time of profound social and political transformation in Oromia. He departed at the sweetest moment in the history of the land of Abba Gadaa when what he toiled for all through his life has started bearing fruits. His final gratefulness; his final smiles and joy at the realization of these fruits should have prevailed with us today.
The bitter reality however is, he is gone to never come back. As tradition has it and as his teaching of Waaqeffannaa has it, we give him a final sending off by shading our tears saying;
Nagaati eega;
Nagaati eega;
Nagaati eega yaa hadho ko ya Hundasa.
Biyyen sitti ha salphatu. Dadhiin ekera ke jala ha ya'uu!!
Hundasa Wakwaya is survived by his wife and three children. His burial ceremony will take place at his birth place in Mida Kengi; West Shewa, Oromia, Ethiopia; thanks to the generous contribution of Oromo community from all over the world.