By Bula Sirika Wayessa*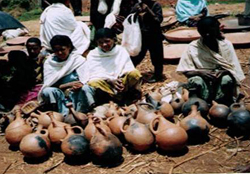 Coffee is used among Oromo of West Wallaga as traditional medicine, food and beverage. It is also core part of almost in every daily ritual practices in the society. The Oromo also link coffee tradition with traditional pottery technology.
Presently the Oromo follow different religious denominations. Regardless of their religious background, the Oromo practice coffee ceremonies in the same manner because it is a marker of their common ethnic identity.
Traditionally the people believe that coffee is different from other plants because it grew out of the tears of Waaaq (God). In this society, the coffee ceremony is a forum for social networking and it is where elders pass onto their children norms and values of the society that sustain social identify of the group members.
Read or download this full article here:Buna Qalaa A Quest for Traditional Uses of Coffee

*Bula Sirika Wayessa is a PhD student in archeology at the University of Calgary, Canada
Source: http://www.diaspora.illinois.edu/news0911/news0911-3.pdf